Want to get more involved in the race to make a difference in the lives of PH patients? There are many ways you can get involved.
Talk to your PH team, get involved with a local support group near you. In addition there are amazing nonprofit organizations working to make a difference in the lives of those with PH, and they would appreciate your help!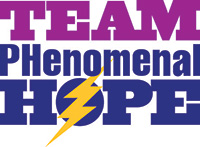 Team PHenomenal Hope (Team PH) actively seeks to improve the quality of life of those with pulmonary hypertension (PH) by building community, by providing patients with a voice, by raising money for care and medical research, by racing all over the world to raise awareness of PH, and by inspiring and uplifting those who cannot race because of their condition.
Team PH brings their mission to fruition through patient-centric, unique programs, such as the Meaghan Michelle Hicks Unmet Needs Patient Impact Fund, the PHenomenal Impact Fund for Global PH Research, the Team PH virtual Support Group, and the Let Me Be Your Lungs endurance program.
For more information about Team PH's impactful programs, or to learn how to get involved, go to teamph.org.
PHaware was founded by a group of pulmonary hypertension awareness activists. Composed of patients, caregivers, and medical professionals, phaware is dedicated to elevating their mission by making the public, news media, donors and investors aware of pulmonary hypertension. Their mission is to create global pulmonary hypertension awareness through engagement and innovation to forge a new course to a cure.
For more information about PHaware, go to phaware.org.
The Pulmonary Hypertension Association (PHA) is the oldest pulmonary hypertension association in the world, and it is changing the history of an illness. PHA has many programs, including a network of patient and caregiver support groups, lifesaving early diagnosis awareness and education programs, specialty care resources, and research to prevent and cure PH. PHA works "every day to end isolation, provide education, involve our constituents in everything we do, and find a cure for pulmonary hypertension."
Join a support group. Find more information about pulmonary hypertension. Find a clinical trial or PH specialist near you! Check out more information at www.PHAssociation.org